Did you have a revision surgery for a transvaginal mesh implant?
Get a Free Case Review

Transvaginal Meshsurgical implant
Transvaginal Mesh is an implant designed to treat pelvic organ prolapse and urinary incontinence. The mesh is generally constructed from a plastic called polypropylene and is surgically implanted through the vagina. In some cases, complications arising from the transvaginal mesh have resulted in erosion and organ perforation. Many women who have suffered from these complications are seeking compensation from the manufacturer for the physical and emotional pain resulting from these issues.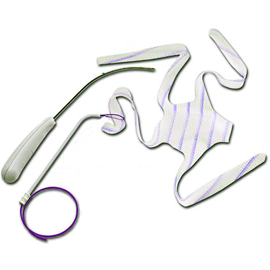 What is Transvaginal Mesh?
Transvaginal Mesh is an implant designed to treat Pelvic Organ Prolapse (POP) and Stress Urinary Incontinence (SUI). Typically, these conditions occur after a woman has had a hysterectomy, menopause, or child birth. A Pelvic Organ Prolapse is the weakening of pelvic muscles which causes pelvic organs to drop into the vagina.
Transvaginal Mesh is generally constructed out a plastic called polypropylene. The term "transvaginal" refers to the type of surgical technique used to implant the mesh through the vagina. In 1996, the FDA approved the use of the first transvaginal mesh device. Designed through Boston Scientific, the first transvaginal mesh was used for the surgical treatment of SUI. It was later recalled for safety concerns in 1999. It wasn't until 2002 that Johnson & Johnson designed a device to specifically treat POP.
Adverse Events for the Transvaginal Mesh
The U.S. Food and Drug Administration (FDA) regulates over-the-counter and prescription drugs in the United States, including biological therapeutics and generic drugs. This work covers more than just medicines. For example, fluoride toothpaste, antiperspirants, dandruff shampoos and sunscreens are all considered drugs.
An adverse event is submitted to the FDA to report any undesirable experience associated with the use of a medical product in a patient. For drugs, this includes serious drug side effects, product use errors, product quality problems, and therapeutic failures for prescription or over-the-counter medicines and medicines administered to hospital patients or at outpatient infusion centers.
Regarding more information related to Actos, please check out this link to the FDA website.
Call now to discuss your legal options.
Current Transvaginal Mesh Lawsuits
Tens of thousands of women have suffered emotionally and physically from transvaginal mesh complications. Transvaginal mesh implant complications can affect a woman's career, activities, relationships, and overall quality of life. Many of these women have filed suit and are winning their legal cases.
If you or a loved one have experienced complications from a transvaginal mesh implant, you may be eligible to seek compensation.
We want to hear from you
Speak with a representative now
Get Your Free Case Evaluation