PhysiomeshJohnson & Johnson Ethicon Physiomesh
Ethicon, a subsidiary of Johnson & Johnson, manufactured, marketed, distributed and sold Physiomesh from March 1, 2010 through May 21, 2016, when it was subject to a voluntary recall. The May 2016 market withdrawal came after two studies found higher rates of hernia re-opening verses similar products. The product is used in laparoscopic repair and treatment of ventral hernias. The hernia mesh patches are stitched over the hernia to strengthen abdominal walls so the hernia will not reopen. Unfortunately, Ethicon's Physiomesh devices are made from composite material that includes polypropylene. This material has shown to break down resulting in hernia recurrence. It should be noted that the polypropylene used in Ethicon's Physiomesh is identical to the material used in Ethicon's transvaginal mesh which is currently subject to thousands of lawsuits.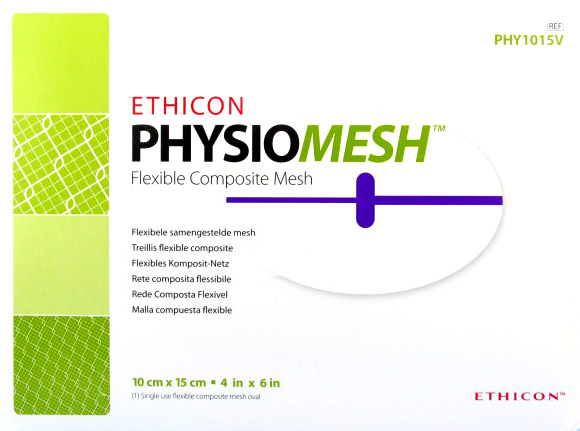 What is Physiomesh?
Ethicon Physiomesh is the only skirted macroporous, partially absorbable mesh designed for open ventral hernia repair. The mesh is used in hernia repair surgeries and is marketed as a minimally invasive procedure.
Adverse Reactions from Physiomesh
Physiomesh is highly susceptible to breakdown. Once the mesh has broken down, the hernia will reemerge which can cause swelling and infection at the surgical site. In most cases of breakdown, a follow-up or revision surgery is required to repair the problem.
Depending on the surgical technique and type of mesh, complications and side effects following hernia repair surgery may vary. Patients generally recover quickly and do well after surgery, according to the FDA. But, the agency also received reports of adverse events.
According to the FDA, reports of adverse reactions include:
Pain & Bleeding
Infection
Hernia reoccurrence
Adhesions, scar tissue that sticks together
Mesh shrinkage
Fistulas, abnormal connections between organs
Seroma, fluid buildup at the surgery site
Bowel or intestinal blockage
Organ perforations
Nerve damage
Autoimmune reactions to mesh
Mesh migration and rejection
Call now to discuss your legal options.
We want to hear from you
Speak with a representative now
Get Your Free Case Evaluation