Were you taking Pradaxa and experience continuos bleeding?
Get a Free Case Review

Pradaxa (dibigatran etexilate) anticoagulant
Pradaxa was released in as an oral blood thinner for patients to reduce the chance of strokes from blood clots. There were approximately 6.2 million prescriptions written in the first 3 years on the market. In May of 2014, Boehnringer Ingelheim the maker of Pradaxa announced a settlement of $650 million dollars with over 3000 federal and state cases.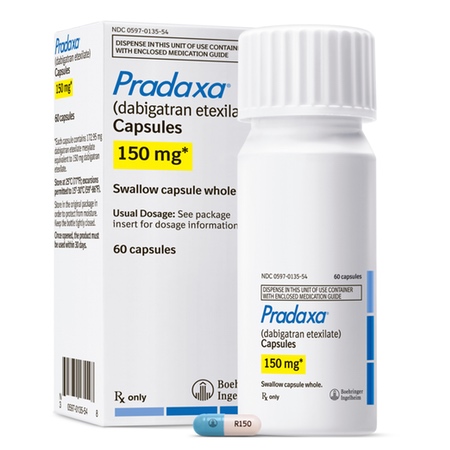 What is Pradaxa?
Pradaxa is prescribed to lower the possibility of blood clots forming in patients and is a prescription blood thinner drug. It is a common blood thinner medicine for patients with atrial fibrillation(AFib) and are more susceptible to strokes. It has also been commonly used for treatment of blood clots in lungs and veins.
In 2010 and Pradaxa was tested and approved by FDA in the Priority Review Program which is completed in just 6 months. Released in 2011, it was the first oral anticoagulant approved since the popular Warfarin in the 1950's. What made this drug unique was the ability to be taken orally and not by injection such as other members of this drug class. While in the clinical trails Pradaxa showed promise regarding patients having few strokes then those taking Warfarin, some adverse side effects did exist.
Ongoing review of Pradaxa by the Food and Drug Association (FDA) since initial approval identified new possible complication when using Pradaxa. A study of more than 134,000 patients showed that in populations over 65 years of age whom were using Pradaxa had an increased risk of major gastrointestinal (GI) bleeding vs other blood thinning prescription drugs.
From approval in October 2010 through December 2013, there were approximately 6.2 million prescriptions dispensed and 934,000 patients who received a prescription for Pradaxa® (dabigatran etexilate mesylate) from U.S. outpatient retail pharmacies.
Most frequent Pradaxa reactions
The U.S. Food and Drug Administration (FDA) regulates over-the-counter and prescription drugs in the United States, including biological therapeutics and generic drugs. This work covers more than just medicines. For example, fluoride toothpaste, antiperspirants, dandruff shampoos and sunscreens are all considered drugs.
An adverse event is submitted to the FDA to report any undesirable experience associated with the use of a medical product in a patient. For drugs, this includes serious drug side effects, product use errors, product quality problems, and therapeutic failures for prescription or over-the-counter medicines and medicines administered to hospital patients or at outpatient infusion centers.
Regarding more information related to this product please check out this link to the FDA website.
Call now to discuss your legal options.
From 2010 to 2013 there were approximately 4000 lawsuits field in state and federal courts against Boehnringer Ingelheim the maker of Pradaxa. On May 28th 2014, Boehnringer Ingelheim announced a complete settlement in the amount of $650 million dollars.
We want to hear from you
Speak with a representative now
Get Your Free Case Evaluation